Biotechnology has become an important subject in the last two decades. This is due to the technological developments in agriculture, medicine and other fields. It is a subject which mainly deals with various biological aspects with the sole aim to improve the quality of life. Biotechnology mainly includes agriculture, medicines, food science and the environment. There are several types of research conducted in the field of biotechnology. Several new theories and research findings have been developed in the field of biotechnology. The genetics of living organism is studied under this subject. The following article talks in detail about the various biotechnology courses and its syllabus. You can also have an insight into the biotechnology educational opportunities in various countries all over the world.
Get More Info About : Top Countries And Classes To Study Abroad
Biotechnology Courses and Syllabus
Students can pursue M.Sc Biotechnology from a recognized university that deals with scientific and technological studies. Masters in Biotechnology management is a management course that deals with management aspects in the field of biotechnology. There seems to be an ample number of opportunities in the field of biotechnology on research and development. The following are some of the topic included in the biotechnology courses offered in various countries.
Microbiology
Biomolecules
Molecular Biology
Genetic Engineering
Environment engineering
Cell Biology
Immunology

Basic Requirement For Masters In Biotechnology In Other Countries
To pursue a master degree in biotechnology in aborad countries students must have completed a bachelors degree in biotechnology or any other science-related subject. They must clear GRE exams to apply for a masters degree in biotechnology in abroad countries. They must also qualify for IELTS or TOEFL exams to assess their English proficiency. They must also submit various supporting documents like passbook, address proof, bank details etc.
Masters Degree in Biotechnology – Abroad Opportunities
The United States of America: There are several universities in the U.S offering biotechnology-related masters degrees. Students can pursue MS in Biotechnology in the top universities. The master's degree in Biotechnology in U.S universities are of course expensive. But the job opportunities seem to be more and thus students find it easy to pay off their education loans in the U.S. Students can obtain scholarships in the U.S universities for pursuing M.S in Biotechnology and other related courses. Harvard University and Stanford University in the U.S.A are the popular universities offering biotechnology programs.
Germany: This is a popular country which is known for higher studies in biotechnology. Several top recognized universities in Germany offer several biotechnology courses. It is one of the competitive countries in the world offering several biotechnology-related programs. Students can pursue biotechnology higher studies for free. Biotechnology engineering, pharmaceutical biotechnology and molecular biotechnology are the popular biotechnology related subjects offered in this country. Students can get enrolled in RWTH Aachen and University Freiburg to pursue their biotechnology-related courses.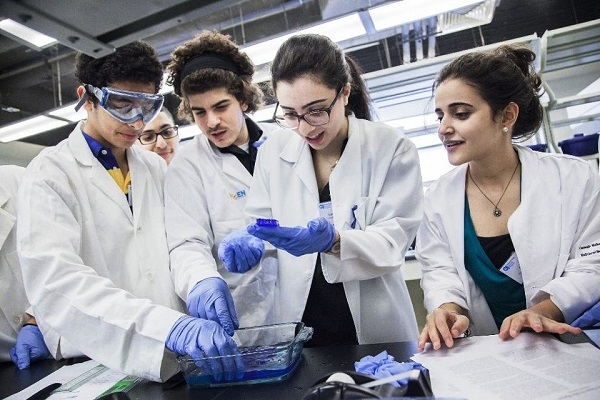 Australia: In this county students can either opt for full-time biotechnology courses or online biotechnology-related programs. The universities in Australia is one of the best places to pursue masters in biotechnology. Some of the specialized subjects of biotechnology offered in the colleges of Australia are Food processing, Pharmaceutical biotechnology and several others. Students who complete their masters in biotechnology can very get jobs various pharmaceutical companies in Australia. The educational fee and other expenses in Australia seem to be less compared to other countries. The University of Queensland is the top university in Australia for biotech-related programs.
Canada: Students from all over the world pursue M.S or M.Sc in Biotechnology in Canada Students can complete their master's degree in Biotechnology with the help of scholarships offered in the country. The immigration formalities seem to be simple in Canada. The tuition fee for Biotechnology related courses in the country is less. There are enormous job opportunities in Canada for biotech students. Students from various countries can enrol at the University of Toronto to pursue their higher studies in Biotechnology engineering.
Singapore: This is one of the popular Asian countries offering higher studies in Biotechnology. Top universities in Singapore offer a scholarship for pursuing biotechnology programs. There are companies offering internships for biotechnology students. The National University of Singapore is a reputed institute offering masters degree in biotechnology.
Career Prospects of Biotechnology Related Programs
There are several career opportunities all over the world for students who have completed biotechnology related courses. They can take work as biotechnologists, biotech technicians, biochemists in pharmaceutical companies. Research Scientists is a popular career prospect for biotechnology professionals. There seems to be plenty of opportunity for research and development in the field of biotechnology.
The above are some of the biotechnology education opportunities in various countries all over the world.