Who Is A VoIP Engineer?
VoIP engineers are computer scientists or engineers who specialise in VoIP technology. They work with VoIP networks, allowing users to make phone calls over the internet. In short, VoIP engineers design, test, install and maintain VoIP systems.
With a VoIP service, incoming calls can be routed anywhere globally, and VoIP engineers help companies implement these systems. VoIP engineers must be skilled with various software packages and programs to work professionally. This article will provide a summary of what it takes to become a VoIP engineer and their responsibilities. Discover more here.
Responsibilities Of A VoIP Engineer
VoIP engineers help businesses implement Internet phone systems, which offer numerous advantages over traditional phone networks. VoIP services in India expect VoIP engineers to fulfil the following responsibilities. VoIP engineers:
Collaborates with others and works independently to complete a project.
Have a good understanding of computer problems and provide comprehensive solutions.
Installs, configure and manages VoIP systems.
Oversees the installation and management of our VoIP network.
Determines the company's networking requirements, examines the VoIP network, and implements Cisco Unity.
Optimise network installations in preparation for future growth and are familiar with hardware systems.
VoIP engineers are responsible for all aspects of a company's VoIP system, including its design, installation, and maintenance. To fulfil these responsibilities, a VoIP engineer must meet the following qualifications.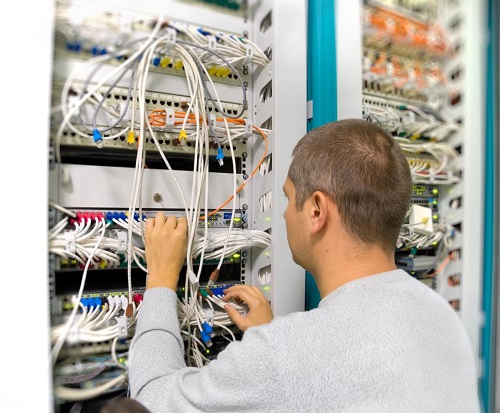 Candidate Qualifications
VoIP engineers must possess certain skills to carry out their responsibilities effectively. A VoIP engineer needs to have a bachelor's degree concentrating in computer science to work with computer networks & Internet-based telecommunication systems. In addition to advanced knowledge of VoIP networking systems, strong troubleshooting skills, and a thorough understanding of IT security protocols and procedures, a VoIP network engineer should also understand internet security requirements.
Although most VoIP engineers hold a bachelor's degree, it is possible to become one with only a high school diploma or GED. VoIP engineers are often network engineers with previous experience in other roles.VoIP engineers need to have a passion for computer and Internet technology and electrical engineering knowledge.
VoIP engineers are expected to work in a team environment and collaborate. They must maintain up-to-date Internet and computer advancements and troubleshoot computer problems.
Key takeaway:
VoIP engineers are in high demand because of VoIP systems' numerous advantages to businesses. VoIP engineers must have hands-on experience to land the best positions. They must also be able to solve problems and troubleshoot systems. VoIP engineers must remain adaptable and aware of the challenges ahead to stay one step ahead in their careers.